As a collaborative community table, HIPC is in a unique position to focus on the collective impact of efforts to improve local settlement outcomes. To this end, in 2019 a small team of HIPC members began working with advisors funded by the McConnell Foundation's Innoweave Initiative for Newcomers. Meeting regularly for more than a year, we drafted a new strategic plan (theory of change) to shape our focus until 2025.
It is hoped that HIPC partners can see how their own work and that of their organizations can move our community towards these outcomes.
HIPC's impact statement is two-fold, focusing on creating successful settlement experiences and sense of belong for newcomers.
HIPC has adopted three operational principles to guide our work:
The basic needs of newcomers are foundational to achieving newcomer settlement and sense of belonging. HIPC's work will connect influencers and resources in our community to improve equitable access to, for example, affordable housing, food, employment, and healthcare.
Supporting and advocating for positive outcomes for newcomers in our community must include leadership from those who have been newcomers to Canada themselves. Lived experience and community networks are essential.
HIPC commits to taking practical positive actions that are informed and evaluated by an anti-racism anti-oppression (ARAO) approach.  ARAO principles should be embedded in all HIPC work.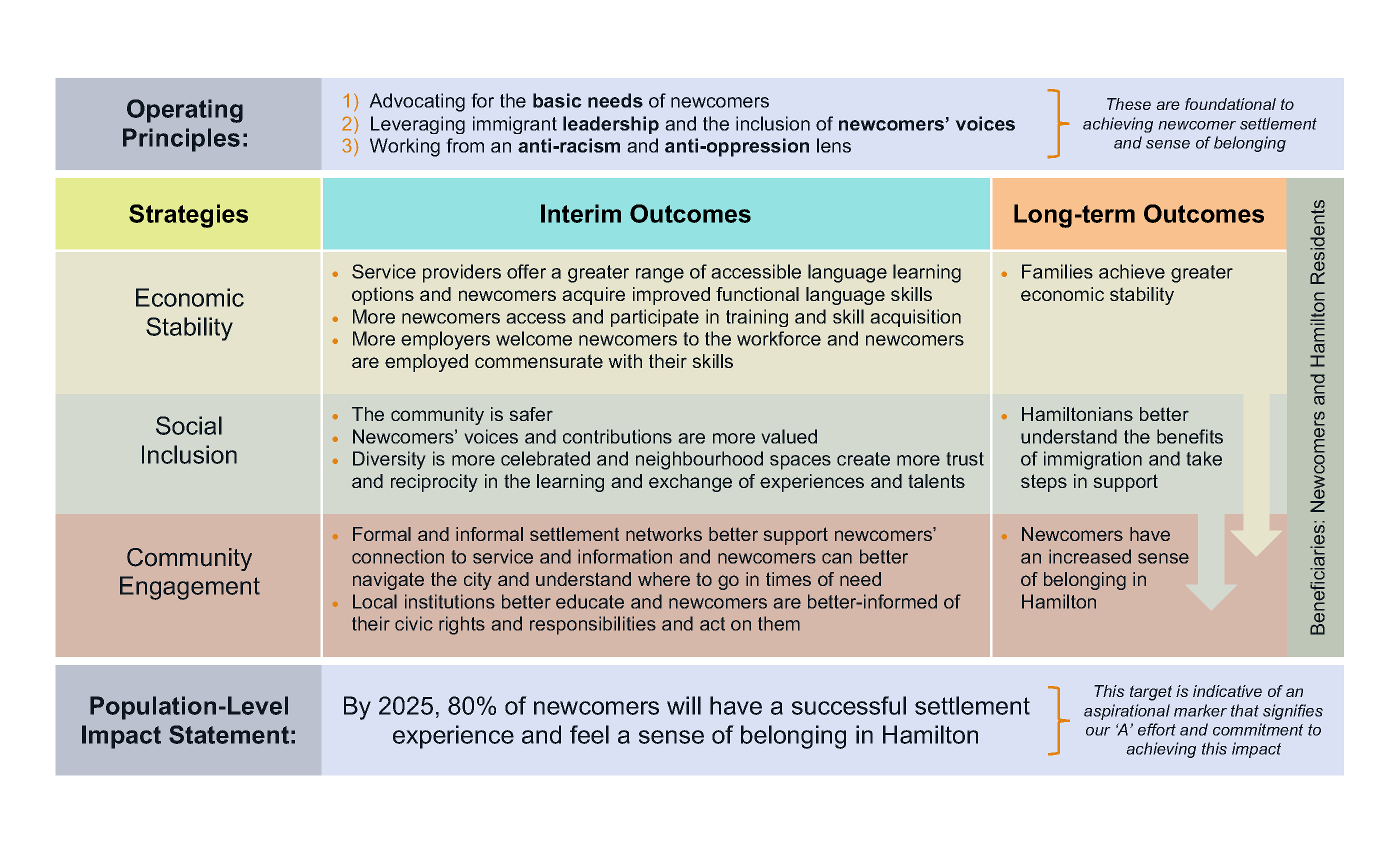 HIPC is a multi-layered community partnership initiative comprised of a Council lead by a Chair and Vice Chair, four Committees each lead by a Chair or Co-Chairs, ad hoc Working Groups, and a Secretariat of three staff. The City of Hamilton holds the contract for funding from the Government of Canada.
Three committees oversee and engage in work focused on three strategic priority areas
Economic Stability – enhancing the ability of newcomers to acquire skills, find appropriate employment, and build assets
Social Inclusion – readying Hamilton to be a welcoming community that values newcomer voices and contributions
Community Engagement – building capacity among newcomers to navigate our city, access services, and participate as equal members of society
In addition, an Evaluation Committee oversees the implementation of HIPC's evaluation framework and is a point of contact for any research projects.
For more information about joining a committee or the partnership council, please contact HIPC staff.